In 1961, while in my early twenties, I lived for about a half a year in Paris at the now-legendary "no name hotel" on rue Git-le-Coeur. The halls smelled of marijuana, garlic, cheap frying oil, and Galloise cigarettes. Brion Gysin lived across the hall, and William Burroughs lived in a tiny back room on the floor below. The poet Gregory Corso provided the place with its legendary name: "the beat hotel."
I was attracted to the bohemian lifestyle, but theirs was a gay or guy "thing," so I was never really welcome in their circle. There were plenty of other younger poets, painters, and jazz musicians staying at the hotel to befriend.
My room, number 23, had a small two burner gas stove in the corner that ran on a meter. I often used it to cook an evening meal (a hearty soup), which I then shared.
Once in awhile, I ate alone. Then in want of companionship, I'd go downstairs to the bar to chat with whomever was hanging around. Most often I'd talk to the concierge, Madame Rachou. She was so short that she had to stand on a wooden crate behind the bar in order to serve coffee. She had blue-white hair and loved the American and English writers and artists who inhabited her hotel—not a usual response to "Anglos" in Paris at that time.
When just the two of us were together in the bar, she'd refer to me sympathetically as toute seule—all alone. How I hated that expression, expressing, as I thought it did, pathetic lonely datelessness. Perhaps my face revealed how I felt, for often she would sit down opposite me at one of the small tables, and share some gossip. When she found out I was interested in food, she described the rich hare ragout and bean and lamb stew she'd cooked and served in the café when her husband had been alive.
Those evenings were my first real experiences with solitary dining and eventually I came to like it. So what if I sometimes ate toute seule? I was young, living in Paris, and my whole life lay ahead.
I have a food-writer friend who eats lunch alone every day in his Manhattan apartment. In the evenings, he goes out to eat with friends. He makes a ritual of his solitary lunches. After he prepares a dish, he takes off his apron, and changes into a jacket and tie. He sits down at his table which has been set with his best sterling silver and china. He puts a freshly ironed cloth napkin on his lap.
Although I admire his approach, my own solitary meals are nowhere near so ritualistic or formal. Still, I've come a long way from eating toute seule in a drab room at the beat hotel. These days, when I eat alone, I try to make the experience at least a little bit grand.
A few years ago, in Barcelona, I purchased a special plate. It's a one-of-a-kind and so I only use it when I dine alone. It's earthenware, glazed a rich yellow with a green and red-brown rim, and there's lettering on it.
This lettering is my inspiration: Pa amb Tomàquet reads one line In the middle of the plate there's a circle containing an "i," and at the bottom, the word Pernil. In the Catalan language this means "Bread with Tomato ... and Ham." And that, if I can find all the correct ingredients, is my favorite eat-alone dish.
For me Pa amb Tomàquet sums up all that is best in the Mediterranean, an area whose cuisines and flavors I've been studying my entire adult life. This same basic combination appears in numerous Mediterranean lands. Good sea salt and extra virgin olive oil are the only other essential ingredients.
I've written before about a version my husband and I ate as a beach picnic on the Greek island of Paxos. There the country-style bread, frigania, was sun-toasted, the local oil had a faint overtaste of hazelnut, the air was balmy and bore the aroma of wild herbs and spring wild flowers, the light slanted just perfectly through the olive trees behind us, and we were soothed by the gentle sounds of the Ionian sea. It was one of those afternoons you never forget, where the taste of food merges with your memory of the setting. It was what my husband calls "a day of pure Mediterranean bliss"—the sum of everything I've been writing about through the years, and which, when I recall it, always brings a smile to my face.
In the Ionians they replace the ham with thin rings of young red onions. In Italy they usually forgo any embellishment, preferring the simple combination of tomato and bread. One morning in Turkey, in the Euphrates Valley, where much of the Old Testament is set, I was handed a variation I call a "breakfast burrito." Turkish flat bread had been rolled around some smashed wood-charred onions and ripe tomato slathered with olive oil. The oil had been seasoned with a sprinkling of red pepper paste and dried mint.
I love these and other Mediterranean versions, but I adore the Catalan Pa amb Tomàquet, the most. Perhaps this is because the first time I ate it—at a bar within La Boqueria, the huge, boisterous and legendary central market of Barcelona just off the Ramblas—was the first time I tasted it with Jamón Iberico. Jamón Iberico is the extraordinary ham from the black-hoofed pigs raised on acorns around the town of Jabugo in the Extramadura region of Spain.
Alas, Jamón Iberico is not yet available in the United States. I know some importers who are working hard to bring it over. Hopefully this will happen within the next few years. In the meantime, I sometimes add a very thin slice of Serrano ham. But more often than not, I eat the bread and tomato alone.
Because this dish is so simple (a child can put it together in seconds), the ingredients must be perfect. Late summer vine-ripened tomatoes are a necessity. In Northern California, where I live, we're blessed with wonderful multi-hued heirloom tomatoes from July through October. Off-season, I look for sweet, juicy, aromatic cherry tomatoes, which I crush before spreading on the bread.
The bread is key. It should be country-style crusty and very fresh, preferably from a local bakery. When I'm at home, I always use bread from the Della Frattoria bakery in Sonoma County. I recommend grilling it the way the Catalans do, over a hardwood fire, or, if that's impossible, on a stove-top toaster grill set over a gas flame. This method is much preferred to the result obtainable from an electric toaster, in that the bread will be slightly charred by the flames.
Extra virgin olive oil is one ingredient on which I never stint. I always buy the very best that I can find. If you choose a Tuscan oil, your Pa amb Tomàquet will be somewhat peppery; if you use a fine Spanish oil, it will be closer to the original. Either way works well for me, depending on my mood. As for salt, my favorite is the large-crystal British sea-salt called Maldon, which dissolves when added to the crushed tomatoes.
Of course there are numerous "world class" dishes that I've written about and greatly enjoy—Spanish paella, Moroccan bisteeya, Provencal bouillabaisse, and cassoulet from South-West France. But when I'm going to eat alone, I always reach for that lovingly lettered yellow plate, the one that says Pa amb Tomàquet.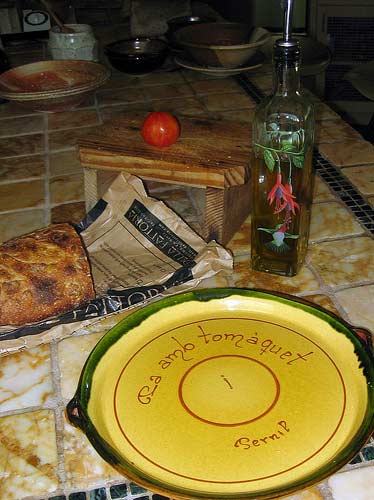 Pa amb Tomàquet
Cut a rustic style bread with a serrated knife into ½-inch slices. Lightly toast the slices on a grill or in a toaster-oven. Slather the toasted slices (ON BOTH SIDES) with freshly crushed ripe tomatoes. The layer must not be too thin—or too thick—more like a thin, even red sheen. Sprinkle with fine salt. Slowly drizzle a light, golden extra-virgin olive oil on top on one side.
If you like, you can top the bread off with paper-thin slices of Serrano ham or large, fat fillets of anchovy, preferably imported from l'Escale.
You may want to rub some garlic on the bread as well, but I've yet to meet a Catalan gastronome who would approve. Eat with a knife and fork.