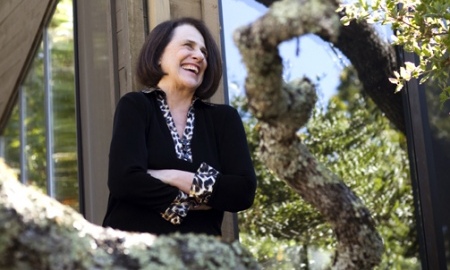 Couscous, preserved lemons, and duck confit are standards on local menus, but they weren't 30 years ago, when Paula Wolfert introduced a generation of chefs to a way of cooking that came to define how the Bay Area eats. On the eve of the publication of her 10th book, one of this country's most important cookbook authors reflects on an audacious life spent bringing the flavors of the Mediterranean home.
On a sunlit afternoon at her home in the Sonoma hills, Paula Wolfert surveys the collection of clay pots that colonizes her kitchen so completely, the overflow spills into every corner and closet. Moroccan tagines crowd her shelves and cupboards. Turkish guvecs adorn her counters. Small earthenware vessels,stocked with aromatics, occupy the spice drawers across from her six-burner stove.
Wolfert, widely regarded as one of the country's most influential living cookbook authors, is 71 and moves and speaks with the restless energy that has fueled her explorations of Mediterranean cuisine for more than 50 years. As she mills about her kitchen, taking stock of her clay pieces, she rattles off stories of how she acquired them, detailing their provenance and purpose. "That one over there," she says, pointing to a large brown pot, "that's from a chef friend of mine in Istanbul. It's great for spiced meat dishes. And that one is a couscoussier, a gift from a wonderful Moroccan man."
Each pot evokes what Wolfert calls a "gastronomic moment"—a memory, a taste, a fragrance that infuses an outdoor market—and such details season her latest book, Mediterranean Clay Pot Cooking, due for release this month. Like her nine other books, this one provides an intimate portrait of a regional cuisine. Its pages are a paean to an earthy mode of cooking, as well as to the guardians of local traditions, from the Italian sculptor who shares her nonna's recipe for milk-braised pork loin to the Lebanese home cook who passes along a secret for summer wheat–and–dried corn soup.
Since 1959, when she left her native New York on her first trip overseas, Wolfert has amassed thousands of stories and recipes like these, which capture cuisine in a nuanced context with an almost anthropological approach. The first of Wolfert's two most famous books, Couscous and Other Good Food from Morocco, arose from three years spent living in that country. The second, The Cooking of Southwest France, sprang from a magazine commissioned voyage to find the finest cassoulet in Provence. Her painstaking practice of gathering recipes directly from home cooks helped make regional "authenticity" almost a religion.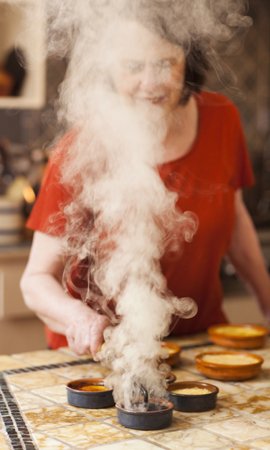 The impact of Wolfert's work has been felt from refined restaurants to suburban culs-de-sac. That any supermarket worth its 12 varieties of sea salt now carries couscous—or that duck confit has migrated from the French countryside to American kitchens—owes much to her early writings. In an industry awash in flash-in-the-pan "celebrity" cookbooks, Wolfert's books stand out for their substance and staying power. In 2005, 22 years after it was first published, John Wiley and Sons issued a revised edition of The Cooking of Southwest France, a telling tribute to the volume's iconic status. And Wolfert is now at work on an expanded edition of her Moroccan cookbook, which first appeared nearly 40 years ago.
"Paula's writing is almost ethnographic, and that's a rarity in cookbook writing today," says Nach Waxman, a former book editor and the current owner of Kitchen Arts & Letters, a renowned culinary bookstore in New York. "Most publishers would rather give their audience the latest something by a Food Network chef or the 440th book on pasta than introduce people to something new."
Like academia, the food world is renowned for prickly characters and nitpicky critiques, and Wolfert has not escaped its slings and arrows. Over the years, some critics have complained about her reliance on hard-to-find ingredients ("I'm not an absolutist," she says in her own defense, "but if it calls for mace, I'm not going to use nutmeg"). Others have accused her of unwitting elitism. In his book Outlaw Cook, food writer John Thorne devotes an entire chapter to "My Paula Wolfert Problem." In it, he charges his subject with cultural hauteur, casting Wolfert as an author who celebrates her entrée to travel experiences that aren't available to just anyone.
But now more than ever, the culinary worlds Wolfert explores are increasingly accessible, particularly in the Bay Area, where her work has influenced many of our finest chefs. "This is a woman who, 40 years ago, was writing about vin de noix, an infusion of green walnuts in wine," says David Kinch, of the two-star Michelin restaurant Manresa, in Los Gatos. Kinch, who describes his restaurant as influenced by both French and modern Catalan cooking, explains, "When you think about her sensibility—her insistence on getting to the source and using the right ingredients, getting to know the people behind the food you're eating—it only makes sense that she'd be here."
In The Cooking of Southwest France, Wolfert quotes a young woman from Landes who told her, "Our cuisine does not begin in our kitchens; it begins with our fathers and brothers hunting birds, our neighbors raising pigs, whole families gathering wild mush­rooms in the fall." Those words could be the Slow Food movement's motto, or the manifesto of a San Francisco restaurant declaring its connection to a feel-good pig farm or to the foragers who harvest the kitchen's chanterelles.
From today's vantage point, Wolfert's early books are striking in their prescience. In 1983, when the nation's fat-phobic era was just setting in, Wolfert was singing the praises of poultry fats, lard, butter, and cream for their role in healthy cooking—today, hotshot chefs garnish hot dogs with deep-fried pork skins and finish the meal with lard-shortbread cookies. Foods like foie gras, preserved lemons, and truffles weren't well known in this country when Wolfert first wrote about them in the 1970s and early '80s. Now, they're staples on Bay Area menus. Along with classic dishes and unheard-of ingredients, Wolfert also introduced a generation to new ways of preparing familiar foods. As Daniel Patterson, the chef-owner of Coi, points out, "Slow-cooked salmon? Everyone does it now, but Paula was the only one talking about it in 1982."
Judy Rodgers, of Zuni Café, who first crossed paths with Wolfert some 30 years ago—Rodgers was working at Michel Guérard's three-star Michelin restaurant in the Aquitaine province; Wolfert was researching a book—considers her a kindred soul. "I felt that way from the moment I read her first book on Morocco. It opened up a portal to another world," Rodgers says.
Mourad Lahlou, the chef-owner of Aziza, had never cooked before he came to California. A native of Marrakesh, he credits Wolfert's book for giving him a deeper understanding of his country's cuisine. "Isn't it ironic—the Western lady teaching the Moroccan kid how to make the food he ate as a child?" Lahlou says. His restau­rant was one of the first to free Moroccan cuisine from the clichés of belly dancers and tapestry-strewn walls, and to offer a contemporary menu, based on local ingredients, that hews both to the spirit and the letter of Wolfert's work and to a Bay Area–specific way of eating. To this day, Aziza's kitchen follows her instructions for handling couscous.
Michael Tusk, the chef-owner of Quince, where Gascony-influenced dishes, such as duck with turnips and cabbage, share the menu with his famous pastas, is another Wolfert devotee. "Reading her was in large part what prompted me to first go to southwest France," he says. "The way she wrote about the food was so personal and passionate, you felt like she'd grown up there. She wasn't just someone passing through."
In the Bay Area, Wolfert has found a place that allows her to approximate the type of existence she has long romanticized in her books: a kind of homegrown version of the Mediterranean lifestyle. The "crush of people, the freshly harvested goods, so lovingly displayed" in the Moroccan souks that Wolfert describes in her first book are not so different from what she en­­counters at her local farmers' markets today.
Her move to California, in 1994, wasn't exactly scripted; Wolfert says her husband, Edgar Award–winning crime novelist William Bayer, dragged her "kicking and screaming" after he fell while cleaning snow off the roof of their Connecticut home and insisted it was time to escape west. But today, Wolfert is deeply attached to Sonoma—"The only way I'm leaving here is feet first," she says—and her relocation seems almost preordained.
Sonoma was actually the second stop on Wolfert's westward migration, though. When she and Bayer left the East Coast, they first lived in San Francisco, where Wolfert was embraced by the city's food­erati. In 1995, this magazine included Wolfert in a list of 101 of the most creative residents of the Bay Area. But, Wolfert says, "If I wanted to live in a city, I'd live in New York." Instead, she and Bayer bought a house a mile and a half up a mountainside, where they could lead what she describes as a "fuller life."
In Sonoma, Wolfert's days are filled with rustic meals, often prepared in the name of recipe testing but also to entertain family and friends. On this afternoon, lunch—duck confit with lentil ragoût—simmers on the stovetop in a 12-inch Spanish cazuela, the clay workhorse of Wolfert's kitchen, employed for everything from Moroccan tagines to Turkish stews. Wolfert had plucked the parsley for the lentils from her garden and purchased the duck, a Mulard, from the Sonoma Market, an accommodating business that she appreciates for its ability to meet her most obscure requests, from fresh sardines to argon oil. "I stumped them once with shad roe," Wolfert says."They've never been able to track it down."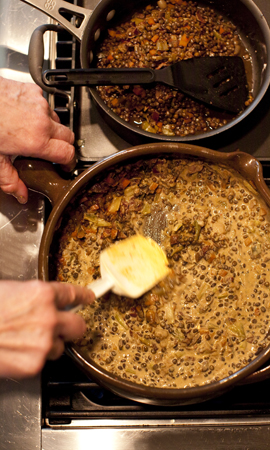 As she cooks, Wolfert casts repeated glances at her recipe on the counter. ("At my age, you think I can remember everything I've written?") Its notes include an account of her long acquaintance with confit. In the 1970s, when she started making the dish, Wolfert used an electric slow-cooker and five pounds of duck fat. Later, she experimented with sous vide, which required less fat but inspired fewer gushing comments. Invited for a tasting, Wolfert's friend Alice Waters declared the sous-vide duck to have "no ch'i."
Wolfert's clay-pot method provides a happy medium. It calls for less fat than the electric cooker does but is far from ch'i-less, imbuing the duck with a complex depth of flavor—slow food in the truest sense. "The clay just gives it some­thing that you don't get from metal," she says. "You sense a closer con­nection to the earth. And isn't that what we're looking for in what we eat?" As the confit nears completion, Wolfert pokes her head into the hallway. "Bill!" she calls. "Lunch."
Into the kitchen ambles Bayer, a tall, gregarious, athletic-looking man. He scans the counters. On one of them sits a vertical stoneware roaster, which Wolfert had brought out while showing off her assortment of clay cookery. Long and smooth, with a tapered end, the roaster resembles a certain vibrating bedroom accessory.
"Ah," Bayer says. "I see you've taken out the marital aide."
Wolfert smiles. "It does look like one, doesn't it?"
The couple met at a party in Greenwich Village in the 1970s. Married now for 26 years, she and Bayer share a happy older couple's playful dynamic. They're prone to completing each other's sentences and stories—he in the flat tones of his native Midwest, she in her rapid-fire Brooklyn Stengelese.
"When Paula was a teenager," Bayer says over lunch, "she took a vocational test."
"That's right," Wolfert says. "I'd forgotten about that."
"The results suggested that she had an artistic temperment," Bayer continues.
"The next day," Wolfert recalls, "I came home with a mound of clay and sat naked in front of the mirror, trying to make a sculpture. I realized pretty quickly that that wasn't going to work very well."
A loner in high school, Wolfert went on to enroll at Columbia University, but dropped out at the end of her sophomore year after she met a Harvard graduate named Michael Wolfert. The two married when Paula was 19. "That was the thinking back then," Wolfert says: "You've met a Harvard man—you're set." Housewifery beckoned, but Wolfert was averse to the constraints of domesticity. Besides, she couldn't even fry an egg.
What might have been another stifling 1950s story took a turn when Wolfert enrolled in cooking classes at renowned chef Dione Lucas's Cordon Bleu Cooking School in Manhattan. Her come-to-the-mountain meal was filet de sole Dugléré. "Who knew you could poach fish in wine, add cream and tomatoes, and wind up with something so delicious?" Wolfert says. "It was magical. An entire new world opened up to me."
Wolfert's horizons broadened further still in 1959, when Michael was offered a job teaching English in Tangier. Like Julia Child before her, she packed her bags and followed her spouse overseas. Living in Morocco awakened the dormant bohemian in Wolfert: She fell in with a crowd of artsy expats that included the beat writer William S. Burroughs and the novelist Paul Bowles. Her time there also introduced her to a cuisine whose vibrant stews and salads and exotic aromatics were all but unknown in the West.
Over the next decade, Wolfert forged friendships with local culinary figures, from noted restaurateurs to traditional home cooks, known as dadas, who worked as in-house chefs for the well-to-do. These connections gave her access to a guarded world where recipes were passed along like family heirlooms. "Mothers to daughters, that was the tradition," Wolfert says. "You kept the recipes in your family so your family could keep their cooking jobs."
By the late 1960s, Wolfert had lost a husband ("He left me for a blond ice goddess" is how she explains it) but had gained the education that would become the groundwork for her first book, published in 1973.
"We decided to put couscous in the title because we figured that was the only word Americans would know," says Fran McCullough, Wolfert's then editor at Harper & Row. "But when we brought it out at booksellers' conventions, people kept asking me, 'So, what's cowse-cowse?'"
As it happened, the timing was impeccable. A new culinary age was dawning, bringing with it an untapped market of curious and con­fident cooks. Sales didn't catch fire instantly, though the book did cause ripples: The Christmas after its release, couscous makers flew off the shelves at Williams-Sonoma. In 1976, Wolfert returned to New York with a second title (Mediterranean Cooking) under her belt and her career on the rise. "It was a very different era," she says. "The food scene was small. Everyone knew everyone. And the writers, not the chefs, were the stars."
The confit polished off and the dishes cleared, Wolfert unveils four ramekins of crema Catalana that she slow-baked in clay, a step she added after the dessert's usual stove­­top cooking. "David Kinch taught me that," Wolfert says of the twice-cooked method. "He told me he'd found mention of it in some old Catalan texts." Wolfert and Kinch have maintained a correspondence for a decade. Kinch calls her a "go-to source for all things southwest France," an opinion many noted chefs share. Wolfert, for her part, is inclined toward self-effacement and quick to minimize her contributions. "I've chronicled a good number of my experiences, but I'm not especially creative," she says. "I've never invented anything in my life."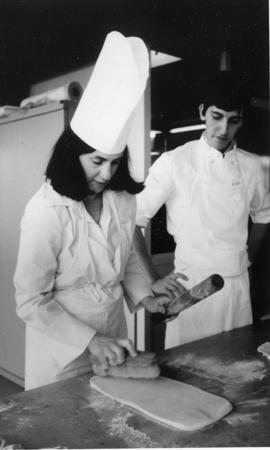 [Photograph courtesy of Paula Wolfert]
Once a tireless overseas traveler, Wolfert now finds stimulation in shorter excursions around town. Every week, she gets together with a group of friends for "lunch, hard liquor, and heated discussions of current affairs." A political junkie and an unabashed progressive, Wolfert attended meet-ups for Howard Dean and worked the phones for Barack Obama's presidential campaign. (She keeps up with other friends and fans through Facebook and Twitter. "It took me a while, but I've got the hang of it now," Wolfert says.)
Sonoma's Tuesday farmers' market is another of Wolfert's favorite destinations. She appreciates the produce but is equally fond of the eclectic mix of characters the market draws, from recent immigrants holding family cookouts to longtime Sonomans picnicking on the grass with their favorite wines.
"It's a very integrated scene, and a very genuine expression of the town," Wolfert says. "Our mayor [Ken Brown] holds informal office hours at the market," and, she adds happily, "he wears his hair in a ponytail."
The afternoon is wearing on, and, having downed an espresso and a wedge of dark chocolate, Wolfert is eager to escape the house. The farmers' market is still a few days off when she arrives in the main square. Though she owns a Jaguar sedan whose license plate reads "TANGIER," Wolfert doesn't drive (she was born walleyed, and, despite an operation to correct the problem, her vision is too poor for her to get behind the wheel), so she relies on friends, taxis, and her husband to get around.
The sun is hanging low when a friend drops Wolfert off at the town square. Restaurants are filling up, and she peers inside one. Aside from her weekly cocktail klatches, she dines out very rarely. "A lot of the food around here is very good," she says. "But for the prices you pay, when you can cook at home?" Her voice trails off. "I don't know."
A business just past the corner looks more appealing; Wolfert beelines for it. It's a shop called Bram, specializing in clay pots, of all things. When it opened this past March, Wolfert was so astounded that she greeted its owners with her best Bogart impression: "Of all the gin joints in all the world," she told them, "you had to walk into mine."
Now Wolfert is walking into theirs. Scores of earthenware vessels sit on display, and Shelly Larson-Almasri, who owns the shop with her husband, Ashrf Almasri, stands behind the counter. She greets Wolfert with a grin and a wave. "When we opened," Larson-Almasri says, "we knew who Paula was, of course, but we had no idea that Mediterranean Clay Pot Cooking was coming out."
"Clay pots must be in the zeitgeist," says Wolfert, who, by way of welcome, has been spreading the good word about the store. The Almasris, for their part, have given Wolfert several beautiful glazed brams. They sit today, alongside dozens of their clay-pot cousins, on her overcrowded kitchen shelves.
Josh Sens is San Francisco's restaurant critic.