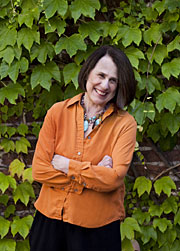 photographer: Sara Remington
Welcome
PAULA WOLFERT, a resident of Sonoma, is the author of eight previously published cookbooks, all considered classics. Among them: Couscous and Other Good Food From Morocco, The Cooking of Southwest France, and five books on Mediterranean cuisine including the much praised Cooking of the Eastern Mediterranean. She has won the Julia Child Award three times, The James Beard Award five times, The M. F. K. Fisher Award, The Tastemaker Award and been a finalist for the British Andre Simon Award. She is the creator of the open Facebook Moroccan Cooking Group.
The late New York Times food writer Craig Claiborne has written of her: "I think she's one of the finest and most influential cookbook authors in this country. Her recipes are done with incredible accuracy. She brings a sense of wonder to matters of taste. She has an uncommonly fine palate. In sum, she is one of the leading lights in contemporary gastronomy."

Paula Wolfert, the undisputed queen of Mediterranean cooking, provides food lovers with the definitive guide to The Food of Morocco. Lavishly photographed and packed with tantalizing recipes to please the modern palate, The Food of Morocco provides helpful preparation techniques for chefs, home cooks, and any serious student of the culinary arts and culture. This is the perfect companion to Wolfert's classic, Couscous and Other Good Food from Morocco - a 2008 inductee into the James Beard Cookbook Hall of Fame - and fans of Claudia Roden, Elizabeth David, Martha Rose Schulman, and Poopa Dweck will be delighted by this extraordinary culinary journey across this colorful and exhilarating land.

About Paula Wolfert
Food Journalist Peggy Knickerbocker describes Paula Wolfert's life in a "Pursuit of Flavor," first published in Food & Wine Magazine (November, 1995).
Paula Wolfert's Cookbooks
A complete list of Paula's Cookbooks, including descriptions, recipe lists, and reviews.
Links
A list of sites that Paula Wolfert finds interesting.

Mediterranean Recipes
This is the place to find a sampling of recipes.

Cooking Tips and Articles
This is the place to find cooking tips, basics and articles.

New article: My Favorite Meal-For-One: Tomatoes, Bread, and The Perfect Plate — This article is excerpted from Alone in the Kitchen with an Eggplant, Confessions of Cooking for One and Dining Alone, edited by Jenni Ferrari-Adler (Riverhead Publishing, 2007).

Subscribe
Be notified of updates to this site.

| | |
| --- | --- |
| In Association with: | |
All contents copyright © 1973, 1976, 1983, 1987, 1994, 1998, 1999, 2000-2009
Paula Wolfert. All rights reserved.

[About] [Recipes] [Articles] [Cookbooks] [Links] [Subscribe]
If you any problems with this site please contact: webmaster@paula-wolfert.com